The world of the built-in service cellar
Wine is a living product. Once bottled, it will continue to evolve over time. Proper conservation of the bottles is essential so as not to alter the quality of the wine and thus have the chance to discover it during its tasting. To ensure that the quality of the wine does not deteriorate in the bottle, special attention must be paid to elements such as temperature, humidity, ultraviolet rays or vibrations.
AVINTAGE service cellars fit perfectly into kitchens and protect your wines!
Lowest vibration possible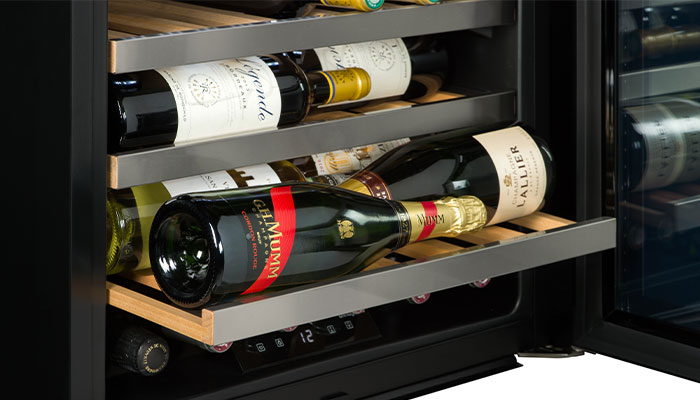 Serve your wine at the right temperature
To fully enjoy all the qualities of the wine you purchase, serving it at the right temperature is absolutely essential. Very often, white wines are served too cold, which kills their aromas, red wines are kept at room temperature, but we forget that the temperature of the rooms has increased since the Middle Ages. A red wine served too hot will reveal dry tannins and dissociated alcohol.
Thus, the AVINTAGE service cellars have been designed to offer one or more temperature zones in order to prepare several types of wine or champagne for tasting. With an ideal tasting temperature, take full advantage of all the aromas of the wine.
A wide range of integration solutions
In total, you can choose between 6 different niche sizes for the built-in wine cellars and 3 different sizes for the built-in wine cellars under the worktop. With its integrated and built-in wine cellars, AVINTAGE has always been at the forefront of innovation and attentive to its customers' needs.
All AVINTAGE wine cellars are compatible with Vinotag®, the wine cellar management app.